Putin's Own Worst Enemy
January 6, 2016
Dr. George Watts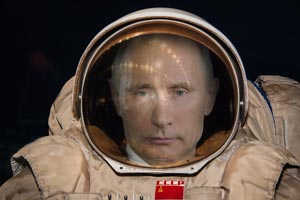 Putin literally doesn't know what to do about this downed Malaysian airliner that crashed into Ukraine. That's why he is hiding out, issuing statements not taking questions, and hoping against hope that this tragedy blows over without him taking too much shrapnel. Even Andrea Merkel, arguably the most important European ally of Russia, has had it. She isn't on "speaking terms" with Putin negating years of effort. Putin really is being isolated. But his biggest problem? Quite literally his own personality.
Speaking as a behavioral scientist, it is my assertion that Putin is an authoritarian. Authoritarian leaders are exceedingly motivated by and intoxicated with the psychological need for "power". But there is more to Putin. He possesses an additional element of sociopathic tendency, not unusual with authoritarians. He is capable of great deception. Indeed, Putin deceived many politicians and radio talk show hosts all over America only two months ago. They publically embraced Putin and especially admired his adversity to all LGBT rights. They applauded when Putin made being gay illegal. Belief in one's own moral superiority is a strong common bond. And they had it with Putin.
But, alas, their "commonality" of shared values with Putin backfired. They saw Putin with rose-colored glasses because they had shared, core values. They mistook Putin's grandiose sense of self and saw it as strength. Joe Biden just said that when he looked into Putin eyes he saw no soul. What Biden meant is that he saw an emotionally shallow man incapable of the deeper emotions of love. He saw a man who experiences no guilt because he lacks any empathy. Yet, the world demands that Putin present his authentic self and share his deepest and truest feelings and talk from his heart. This enlightened authenticity is a level of psychological maturity that Putin is literally incapable of displaying. His own personality got him into this mess; but his own personality is incapable of getting him out.