What is "Self-Confidence"?
January 28, 2016
Dr. George Watts, Laurie Blazek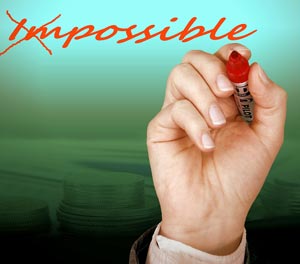 You have probably heard the phrase "Know thyself". This is an ancient Delphic maxim that was supposedly carved into Apollo's temple at Delphi. Fast-forward 2,700 years. The concept of knowing thyself is actually validated by science with the identification of emotional intelligence as the main factor that predicts life success. Improving emotional intelligence always begins with knowing thyself i.e., self-awareness.
The development of self-awareness results in "confidence" that is optimistic but grounded. By examining your strengths and weaknesses dispassionately, as if you were looking at another person, you begin to gain the self-awareness that ultimately leads to genuine self-confidence.
Ask yourself, what are you really, really good at? What were you good at as a child? What skill, with just a little training and practice have you been able to greatly improve or excel? For example, if you are extroverted and love to present and you are asked to give a speech that a lot of potential customers will hear, you will jump at the chance. Why? Because you have confidence based upon competence. You are doing something that you are naturally good at - presenting. If you are asked to apply difficult mathematics to solve forecast modeling challenges, your mouth might get dry because you have no confidence in your ability to do this.
When you are leveraging your natural strengths you are placing yourself on a winning platform. And when you are on a winning platform, doing something that you are naturally good at, genuine self-confidence begins to emerge.
Let's now explore the concept of cognitive bias. Cognitive bias means that we, as humans, tend to overestimate our chances of success, overpraise our virtues and rationalize our faults in order to maintain and even enhance our self-esteem. And, all of us fall prey to cognitive bias at some level. (Granted, males are even worse because besides cognitive bias, they (too often) project their ego into the situational dynamic too).
So, what is the secret of objective, grounded self-confidence? This is justified confidence meaning you rely on it; when you feel it you know it's a good barometer of future success. The answer is as simple as this. The greater the knowledge of one's self, the less cognitive bias one has. Making accurate decisions that are based on objective reality paves the way forward for superior life decisions and meaningful relationships.
Believing in yourself is better thought of and expressed as believing in your strengths. When you use your strengths you have less cognitive bias because when you are exceptionally good at something you know misjudgment(s) the minute you hear it. Your ego doesn't get in your way, you know your stuff and are truly confident. This is confidence that you can take to the bank!