Creating A "Sales Driven"
February 19, 2016
Dr. George Watts, Laurie Blazek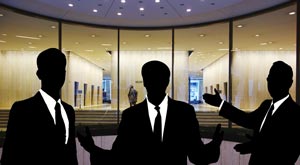 CEOs and senior executives often share with us their sincere desire to lead a "sales driven" enterprise. But here is the catch; most senior executives don't know themselves or understand the significant impact their personality and leadership style have on influencing corporate culture. The culture of any organization is driven from the top down.
Many executives move up the ranks by successfully leading corporate functions and operations. Their technical expertise is reflected in a career track dominated by metrically driven positions. Here, they employ rational analysis and believe that data and processes drive a business. Non-emotional, they can be perceived as somewhat stilted. Examples of this type of leader are Bill Gates and Jimmy Carter.
Our experience is that these leaders are quality people who are generally sharp, professional, friendly, and ethical. But they have never been in business development and don't know what they don't know about sales, much less how to create a sales-driven culture.
Then there are the executives that have ridden the sales train all the way to the top. As a salesperson and sales manager, they were outstanding producers. Metrics are important only to the extent that beating performance targets and being a top performer is always the goal. They are motivated by winning – they thrive by seeking out opportunities, and closing large transactions. They love having the freedom and power to marshal internal resources to solve client problems. This leader believes that passion and aligning systems to close deals is what drives success. Their natural personality is engaging, fun and enthusiastic. Their company's culture is naturally sales driven; it's literally in their DNA.
Reflect on yourself and whether your personality and leadership style is like the first example, the metrically driven leader. If so, then what must you do to create a sales driven culture and what are your biggest challenges?
The first step is having the emotional intelligence and maturity to make a commitment that you are going to respect the sales team at least as much as the metrics that measure them. Get to know the front line and spend time listening to their challenges and concerns. Embrace their love of the hunt and respect how difficult it is to generate revenue. If you take the time to ask, they'll tell you a lot about themselves, their clients and the market's perception of your company's products or services. A sales-driven culture honors big producers and aligns processes that deliver on promises.
If your personality is naturally "sales driven" be aware that there are also pitfalls to this type of leadership style. Strong extroverted leaders with a background in sales often try to sell themselves out of trouble and discount the importance of other necessary functions. Sales may drive business, but production, delivery, back-office, controls and IT systems all need to be aligned too. These may be viewed as less important than business development but without excellence in all functions you can't grow your top line. It does no good to gain a customer and lose another customer due to a lack of execution or deficient processes after a sale is made.
Whatever your leadership style, remember that your salespeople don't really care about metrics except when it comes to compensation. They care that their company is their partner helping to position them to win. Creating a sales-driven culture means creating the ecosystem that embraces both extrinsic motivation – measurement and intrinsic motivation – passion. It is in that balance that success lies.